kakaobank's win reflects the true voice of consumers

Customers laud the bank's in-app experience and digital products

The bank is commended for helping consumers weather the COVID-19 crisis
South Korea's largest digital-only bank Kakaobank (kakaobank) was voted by consumers as the Most Recommended Retail Bank in Asia Pacific in the inaugural BankQuality Consumer Survey on Retail Banks, which involved 11,000 bank customers in 11 markets across the region.
The survey across Asia Pacific gathered feedback from consumers on their engagement, experience and satisfaction with their main retail banks. The findings, which comprised a Net Promoter Score (NPS) derived measurement called BankQuality Score (BQS) as well as detailed channel, service and product level satisfaction scores, have been incorporated into the balanced scorecard of The Asian Banker Excellence in Retail Financial Services Awards Programme in its evaluation and selection of the Best Retail Finance Institutions in the region.
While kakaobank has only been in operation for less than three years, it has already overtaken established competitors in the size of its user base as well as transaction volume. In a country of 52 million people, the bank rapidly grew its customer base to 12 million users as of March 2020, of which 10 million are active.
The bank has also accumulated $17 billion (KRW 21.3 trillion) in deposits and disbursed $14 billion (KRW 16.7 trillion) in loans. It first achieved profitability in 2019. A year later, it became the highest capitalised digital bank in Asia having a total paid-in capital of $1.6 billion, with Kakao Corporation as the largest shareholder with a 34% stake.
kakaobank's win reflects the true voice of consumers
kakaobank received its licence in 2015. Its digital-only business was built from scratch within a year and a half, with a completely new IT system, infrastructure and human resources. By July 2017, the bank began operations and started to offer deposits and current accounts as well as loans and remittances through its mobile app. Convenience, service quality and speed proved to be its key differentiators.
At the time of kakaobank's launch, South Korea had not seen new players in its financial landscape for over 25 years. No institution fully focused on mobile banking either. The timing proved right, as the platform registered 240,000 customers within ten days – more than what the entire commercial banking industry acquires in a year. Its first day of operations saw more than 300,000 loan account applications that overwhelmed its system, but the bank was able to immediately scale up since then.
The achievements of kakaobank reflect the true voice of consumers. It captured the top spot in BankQuality.com's first ever Asia Pacific consumer survey and ranking of retail banks. Out of over 300 banks, kakaobank is the only digital bank that made the final cut and emerged top with an overall BankQuality Score (BQS) of 101.88 – surpassing traditional counterparts in the region. Rounding up the top five most recommended retail banks in the region are: BCA (Indonesia), Citibank (Hong Kong), Metrobank (Philippines) and Maybank (Malaysia).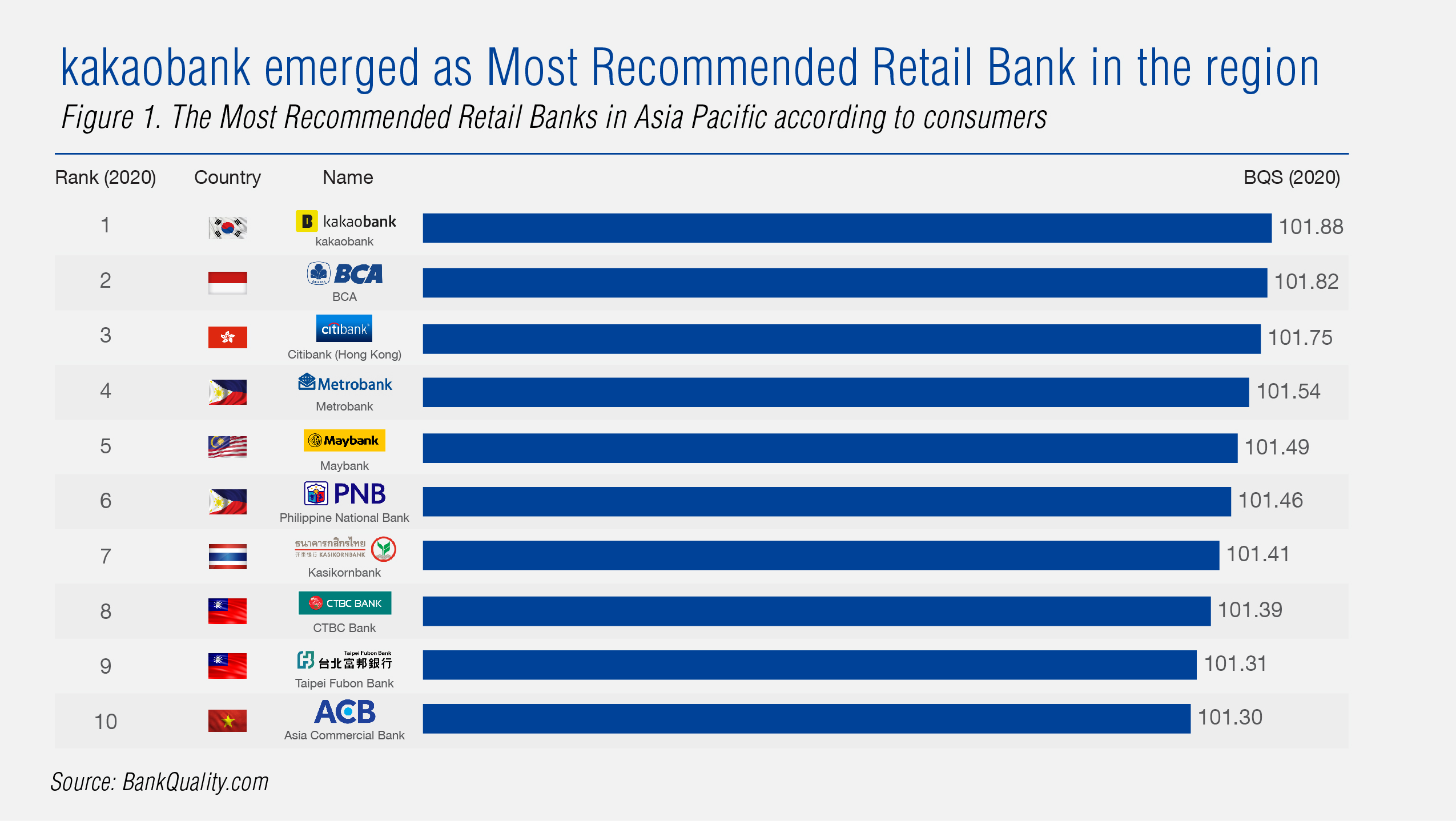 To view the full ranking, visit https://www.bankquality.com/global-rankings/most-recommended-retail-banks-in-asia-pacific
Customers laud the bank's in-app experience and digital products
kakaobank was recognised by customers for its mobile banking and digital services. Among an array of consumer financial services offerings, the digital bank was highly rated for its savings and current accounts, overseas remittance and card payment.
With its mobile banking app designed for easy path finding and usability, the bank is able to focus on providing convenience and speed for customers. It takes only ten seconds to transfer money to a friend, and mere minutes to open an account, wire money internationally or receive a microloan.
Technology serves as the backbone of the bank, having built internal systems that provide agility for future upgrades. As kakaobank does not maintain a physical footprint, the bank invests heavily in its digital platform, system capabilities and product development. Last year, the bank enabled its customers to open stock trading accounts through its platform. It introduced credit card programmes in partnership with KB Kookmin Card, Shinhan Card, Samsung Card and Citi Card in April 2020. The bank also plans to set up a fintech lab this year to develop AI-based technologies for various non-face-to-face financial transactions.
The bank is commended for helping consumers weather the COVID-19 crisis
kakaobank was highly rated for supporting customers during the COVID-19 pandemic. It garnered a BQS of 102.21 for its COVID-19 responses, the highest in Asia Pacific. Customers praised in particular the contactless nature of the bank's services and products, as it proved convenient and efficient for those who could not leave their homes amid the crisis.
The bank's digital business model places it in an advantageous position to assist customers during this time. kakaobank has rolled out initiatives to ease the financial burden of its customers, such as cutting its Western Union overseas international transfer fees from between $6 and $12 to a fixed amount of $5.
The BankQuality.com survey was conducted at the height of the pandemic, thus capturing the shift in consumers' adoption of digital and contactless transactions.