The latest The Fintech Times Bi-Weekly News Roundup sees Italian bank Credem go live with a new mobile app based on Temenos Infinity. While Tide launches insights tool to support small businesses.
Merger and acquisitions
BlackRock has agreed to acquire and integrate Baringa's Climate Change Scenario Model into BlackRock's Aladdin Climate technology. According to BlackRock, the new long-term partnership will raise the industry bar for climate analytics and risk management tools, so clients can build and customise more sustainable portfolios.
Meanwhile, Waystone has announced the creation of a new global compliance offering via the merging of four compliance service providers. The companies involved in the merger include Titan Regulation, Argus Global, CCL Compliance and ISAS, based in North America, Singapore, the Middle East, UK and Ireland respectively. Waystone Compliance Solutions will be headed by Julie Dixon, originally founder and CEO of Titan Regulation.
EML Payments Limited has received approval from the UK's Financial Conduct Authority (FCA) to acquire Sentenial. EML earlier agreed to acquire 100 per cent of Sentenial for an upfront enterprise value of €70million plus an earn-out component of up to €40 million. It is now working to secure approval from the Autorité de Contrôle Prudentiel et de Résolution (ACPR) in France.
Apex Group Ltd, a global financial services provider, has acquired Senasen Group Ltd, a digital marketing platform provider. The deal follows the acquisitions of fund administrators BRL Trust Investimentos and MAF in Brazil, as well as Tzur in Israel. Apex describes the Senasen platform as like a LinkedIn for the investment management space.
Partnerships
Identity verification firm iDenfy has partnered with Clearshift in order to support transparency in currency exchange. The collaboration helps Clearshift simplify identification verification for its clients while reducing fraud. iDenfy provides online identity verification services for financial, sharing-economy and gaming industries.
Open banking platform Tink has forged a partnership with German payments provider Novalnet AG. Following the partnership, Novalnet will take previous region-specific payment methods and offer a new unified digital payments service to its merchants across Europe. It will launch initially in Germany and the UK followed by other European markets during 2021.
Meanwhile, fintech solutions provider Pace Enterprise has teamed up with luxury goods and retail specialist Valiram. The partnership will extend Pace's buy now, pay later solution to the customers of over 20 international brands represented by Valiram in Asia Pacific. Pace has also secured an eight-figure debt financing round led by Genesis Alternative Ventures.
Swiss bank PostFinance will protect nearly three million debit cards with the FICO Falcon Platform, the AI-powered payments card protection system. PostFinance will use the Falcon Platform to manage suspicious behaviour on customers' accounts. PostFinance has also recently partnered with MasterCard to cobrand its debit cards.
Finland's fifth largest city Oulu now accepts contactless payments on its buses. The city is working in partnership with transit and mobility payment processor Littlepay to launch a tap-to-pay system. To provide the service, Littlepay is partnering with Pusatec, Logos and Feig for card validation and Nets for acquiring services.
More collaborations
The ASEAN Financial Innovation Network (AFIN), a not-for-profit formed by the Monetary Authority of Singapore (MAS), the International Finance Corporation (IFC) and the ASEAN Bankers Association, has partnered with R3, the global enterprise software firm. Through R3 and AFIN's collaboration, AFIN will launch a new digital currency sandbox in API Exchange (APIX). R3 will also be the first partner organisation to provide APIs for building applications using digital currencies.
Finally, OROPAY, a Cypriot electronic money institution, has partnered with Salt Edge. The partnership has helped OROPAY become PSD2 compliant to provide safe and secure payments to its customers. The collaboration also helped the e-wallet build services around the new possibilities of open banking.
Raisin has launched in the US with its first American partner bank. The first customisable, digital CD products in the US are available through Raisin's software on MapleMark Bank's online banking platform. MapleMark Bank is deploying the partnership with Raisin to expand to a larger audience beyond its existing private banking base.
illimity, an Italian digital bank, has unveiled a strategic joint venture with Apollo Global Management to invest up to €500million in distressed credit exposures secured by real estate assets in Italy. Illimity and Apollo will be 50:50 investors with equal governance rights and illimity will also contribute approximately €231million of gross nominal value of loans.
Italian bank Credem has gone live with a new mobile app, based on Temenos Infinity. Credem is running Temenos Infinity on the public cloud with Amazon Web Services to achieve 'hyperscaler efficiency, security, and resilience for its digital banking services'. Temenos Infinity is now used by more than 650 banks worldwide.
Funding and investments
Riyadh-based fintech platform Tweeq has raised a seven-figure investment round, co-led by STV and Raed Ventures. It will further bolster the product development for its launch in Saudi Arabia, followed by the wider MENA region. The funding round follows the company's exclusive partnership with Mastercard and Paymentology.
Finnish crypto lending startup Tesseract has secured a $25million series A. The funding round was led by Augmentum Fintech with additional participants including BlackFin Capital Partners, Concentric, DN Capital, Jabre Capital Partners Family Office, LeadBlock Partners and Sapphire Ventures. Coinbase Ventures, Wintermute and Woorton also subscribed to the round.
Announcements
SH Capital, the digital treasury services provider, secures Dubai International Financial Centre brokerage licence to empower SMEs. It will begin trading with immediate effect with the DIFC in Dubai. It provides access to global asset investment products, asset management, FX hedging solutions, as well as investment products.
The 3rd Georgetown FinTech Program is now accepting applications for its new cohort starting in mid-August for professionals in MENA. The 14-week professional development course is delivered by Georgetown University McDonough School of Business. Since launch, it has trained more than 100 participants across the GCC.
Meanwhile, LexisNexis Risk Solutions has received a Judge's Choice award at the 2021 Card Not Present (CNP) Awards. It received the nod for 'Best Identity Verification/Authentication Solution'.
Bahrain based fintech Rsquare Technologies is also celebrating after winning the Regtech Innovation Challenge in the Central Bank of Bahrain (CBB)'s fintech competition. Rsquare Technologies received the award for its account blocking and unblocking automation process in the Bahrain SuperNova Challenge.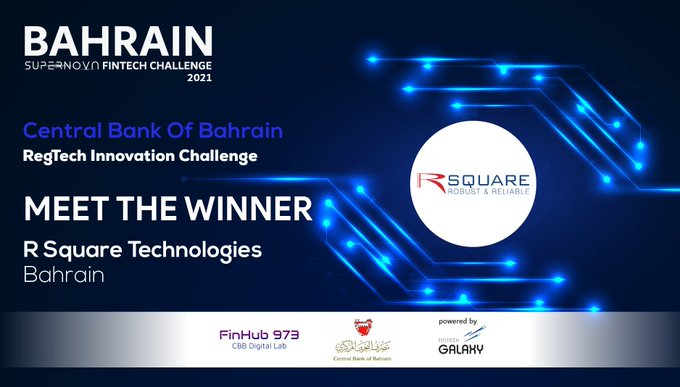 VALK, the blockchain-powered digital platform, has secured a place in the Financial Conduct Authority's regulatory sandbox. VALK's mission is to make private markets in the UK digital and connected by offering a seamless end-to-end solution.
11Onze, a digital community bank, has deployed 50 agents to humanise its fintech services. It says that while most banks and fintech providers leave customer interaction limited to AI chatbots, 11Onze has introduced its expert agents via video clips on its private social network. Agents with varied backgrounds and interests share their views and expertise in the reality TV style mini documentaries.
Finally, Applitools, a provider of next generation test automation, has grown its annual recurring revenue in the financial services sector by more than 200 per cent year-over-year. Applitools leverages AI to accelerate the release lifecycle, maximising productivity for app development.
Launches
Insurtech startup Urban Jungle has unveiled a new building and contents insurance product targeted at younger homeowners. It features Urban Jungle's price promise that when the price is reviewed annually, it will always match the same price offered to new customers. Earlier this month, Urban Jungle  also raised £8million in funding, including backing from investors Mundi Ventures and Eka Ventures.
The Reserve Bank of India (RBI) has issued an in-principle approval to Centrum Financial Services Limited to establish a small finance bank. Resilient Innovations Private Limited (BharatPe), one of India's fastest-growing fintech companies, will be an equal partner. The bank will serve the payment, investment and credit needs of the under-served.
Forex brand Axiory Global has expanded its product offering. With the Axiory MT5 Alpha account, investors can invest in exchange-listed products, buying stocks and ETFs straight from their account. Traders and investors can now choose and combine five account types on three trading platforms – MT5, MT4 and cTrader.
Meanwhile, Tide, the UK business financial platform, is to launch Cashflow Insights this month to help small business members optimise their cash flow, mitigate delays in payments, improve their credit score and get recommendations for credit products appropriate for their businesses. The product will then use open banking technology to launch to non-Tide members in the coming months.
Research
The Monetary Authority of Singapore (MAS) has released the findings of its third mystery shopping exercise. Results show that the majority of product recommendations made by financial adviser  representatives met mystery shoppers' investment and protection needs. The exercise was conducted on 500 FA representatives from 12 insurers and licensed financial advisers from mid-2018 to end-2019.