By Martine Paris, Reporter at The Fintech Times.
Best places in the world to vacation for sun, sand and ICOs
Got an idea to change the world and want to crowdfund it with an ICO? Below you'll find the most picturesque places on the planet beckoning blockchain entrepreneurs to launch their startups.
1. Malta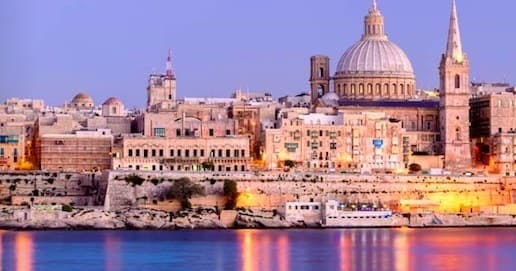 Visit Malta / Via VisitMalta.com
Malta not only just became the first country in the world to provide a stable legal framework that will allow blockchain and cryptocurrency companies to operate with certainty, they might become the first country in the world to offer legal status to robots. Yes, this vibrant Mediterranean archipelago with its colourful boats, limestone fortresses and Game of Thrones brothels, is on its way to getting us one step closer to The Singularity.
Under new laws enacted by the Maltese Parliament on June 26 which include the Malta Digital Innovation Authority Act (MDIA Act), the Virtual Finance Assets Act (VFA Act) and the Innovative Technology Arrangements and Services Act, (ITAS ACT), the newly formed MDIA will offer certification of ICOs, DLT (Distributed Ledger Technology) exchanges and DAOs (Decentralised Autonomous Organisations). The certification process includes technical due diligence that will audit white papers, financial disclosures and code for smart contracts.
Additionally, Maltese officials are planning to provide certified DAOs legal personalities and thus the rights to transact with humans, corporations and other AI.
Back in February, Dr. Ian Gauci, advisor to the Maltese government, described in a Times of Malta article what it might look like once DAOs gain legal status. He explained, "A DAO could own a self-driving car that acts as a taxi 24 hours a day. This would generate income that it would use to pay for its own fuel, repairs, and insurance." Then he added, "Once widespread, we could witness the emergence of algorithmic governance, a new normative system capable of regulating society more efficiently, reducing the costs of law enforcement and allowing for a more customised system of rules that is personalised to every citizen."
Malta's new framework provides certainty that will increase investor confidence around ICOs and allow a blockchain ecosystem to thrive. With tremendous resources for blockchain startups that include access to accelerators, co-sharing space, talent from universities, and a tax haven, the island is already attracting many foreign entrepreneurs. According to Bloomberg, most cryptocurrency trading has already been moving to Malta, which is home to Binance, OKEx, and Bitbay.
Additionally, there is good news for gamers as Malta is making moves to become a home for blockchain game development with the recent issuance of guidelines on crypto payments, wallets, and exchange rates by the Malta Gaming Authority.
The best time to plan your trip might be this Fall when Malta's Prime Minister, Dr. Ian Gauci, Dr. Abdalla Kablan, Tim Draper, and other leading authorities are speaking at the Delta Summit on October 3–5 and at the Malta Blockchain Summit on November 1–2.
2. Gibraltar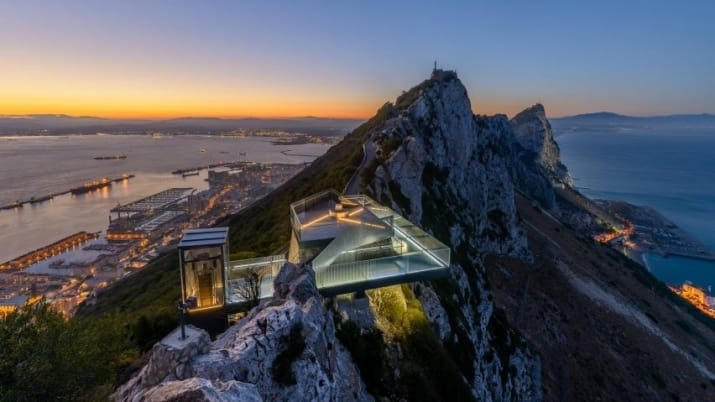 Dezeen / Via dezeen.com
Gibraltar with its Moorish castles, protected caves, and 200 million year old rock is another crypto hotspot. Located on the Iberian Peninsula near Sevilla, Spain, this British Overseas Territory has its own governing body that is embracing innovative new technologies.
The GFSC (Gibraltar Financial Services Commission) has issued ICO friendly guidelines and guidance on issuing DLT licenses that will enable blockchain businesses to flourish. Their white paper reads:
"Most often, tokens do not qualify as securities under Gibraltar or EU legislation. In many cases, they represent the advance sale of products that entitle holders to access future networks or consume future services. They are akin to mobile phone companies pre-selling airtime in networks they plan to build using the proceeds of those airtime sales. As such, these tokens represent commercial products (albeit reliant on future availability and utility) and are not caught by existing securities regulation in Gibraltar."
With this support for altcoins, several large ICO-funded companies have set up shop in Gibraltar including WePower, EnergiToken, Rentberry, and Globitex.
Best time to visit might be next February during the annual conference of the Gibraltar International Fintech Forum. Past speakers have included government officials like the Chief Minister of Gibraltar and the GFSC.
3. Cayman Islands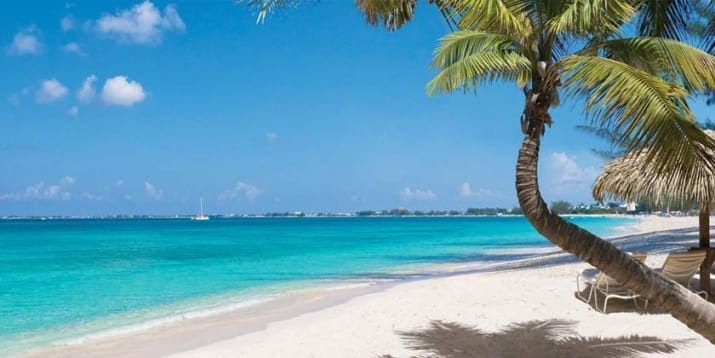 United Airlines / Via vacations.united.com
Another British Overseas Territory popular with crypto entrepreneurs is the Cayman Islands which best known for setting up offshore companies for high net worth individuals amidst its sugar sand beaches.
Cayman's startup Block.one recently completed a $4 Billion ICO for its EOS platform, overshadowing all IPOs for 2018 thus far.
To understand why Cayman is considered ICO-friendly destination, here is a helpful explanation from the Ogiers law firm blog:
"In Cayman, the definition of a "security" is set out in the Securities Investment Business Law (Revised) (SIBL). Unlike the definition of a security contained in the US Securities Act, SIBL defines "securities" in a list of instruments that are common in today's financial markets. This list does not include an equivalent to the expansive concept of an "investment contract", and therefore one does not need to apply the four-part Howey test in order to determine whether a token is a security. Another relevant comparison between SIBL and the US Securities Act of 1933 is the legal consequence of a token being classified as a security. In Cayman it is possible for a token to be classified as a security but for the token issuer nonetheless not to be carrying on "securities investment business."
The decentralisation conference, d10e, is held in the Cayman Islands each January which this year featured the Premier of the Cayman Islands and Blockchain Capital's Brock Pierce.
4. e-Estonia
Dreamstime / Via dreamstime.com
Bordered by Finland, Sweden, Latvia, Russia, and the Baltic sea, the independent nation of Estonia seems to be a magical place to launch your ICO. With long days from the White Nights, medieval fishing villages, and unique attractions like the futuristic Tallinn TV Tower and the KGB Museum, there's so much to explore and yet this is the one seaside getaway you might not never need to visit.
Estonia is one of the first countries to create e-residencies for a digital nation of global citizens. "No business should be bound by physical borders," the government website says as it asks for 100 euros to set up an e-residency that grants access to the EU-based fintech legal framework. So crypto-friendly, e-Estonia even tried to launch its own token — estcoin — which was then quickly shot down by the European Central Bank who reminded them that member EU nations cannot issue their own currency.
Does size matter?
When you take a look at the bucket list of ICO-friendly destinations, those experimenting with building blockchain economies appear to be strongest with the smallest populations, but outliers like Argentina and Malaysia are becoming more common, and it's encouraging to see Blockchain Weeks sprout up in regions even where the central governing authority has strict regulations.
Population under 100,000
Gibraltar — 34,408
Liechtenstein — 37,666
Cayman Islands — 60,765
Isle of Man — 83,737
Population under 1 million
Population under 10 million
Cyprus — 1.17 million
Mauritius — 1.263 million
Estonia — 1.316 million
Slovenia — 2 million
Croatia — 4.171 million
Switzerland — 8 million
Belarus — 9.5 million
Hungary — 9.818 million
Czech Republic — 10.56 million
Population under 50 million
Malaysia — 31.19 million
Argentina — 43 million
Want to hear more about CryptoTravel destinations? Vote for our Summer CryptoTravel Guide: Escape To Blockchain Island panel to be included in the SXSW 2019 agenda here!