According to Morgan Stanley, it's estimated that Gen Z will outnumber any other generation by 2034, peaking at 78 million. And, with numbers like that, they're bound to impact the job market as they enter the workforce in the coming years to make hard-earned money. This means they'll need to learn how to spend (and save) said money.
To understand their current financial situation better, as well as their outlook on the economy and their future goals, Coupon Chief decided to survey more than 500 Gen Zers in the US about everything money. How does a generation, which grew up in the time of the 2008 recession and is joining the workforce on the heels of a global pandemic, feel when it comes to money?
Money in the Bank
When asked which financial items they had, 70% of Gen Z reported having a debit card and 57% a savings account. But a majority of them are still figuring out their finances, with only 19% reporting that they invest their money and nearly 80% still relying on a family member to cover their housing costs.
While a good chunk of our respondents relied on parents or other family for these costs as well as the additional bills that come along with living (e.g., internet, utilities, and groceries), 47% reported paying their own cellphone bill. That makes this cost the one most likely to be covered by this generation.
Considering Gen Z spends a good amount of their income on dining out, mobile devices, and transportation, it's not surprising to see them relying on others for help with the essentials.
Financial Outlooks
While we understand that Gen Z is young and still earning their independence, their outlook on their own financial future and the country as a whole could be what's impacting their decisions.
With only 19% of Gen Zers starting to invest their money, seeing only 1 in 5 of them as feeling financially secure makes sense. And, nearly 70% are concerned for their financial well-being. When looking at what matters to them most, becoming financially independent is what an overwhelming number of them were aiming for. With 78% still relying on someone to pay for their housing, taking this over for themselves could lead to less reliance on family for help. Saving for the future and acquiring assets like a car and a house were also important for Gen Z, while paying off debts weren't as vital. Considering Gen Z's debt jumped 67.2% from 2019 to 2020, this should be an item they start to prioritise, as increasing debt will hinder their ability to gain the financial independence they seek.
Their general outlook, though? Pretty pessimistic with 70% reporting the government should do more to solve problems. Regardless of their ideology, 46% of Gen Z reported the country is heading in the wrong direction financially. From the economy and jobs to the pandemic and health care, Gen Z was not confident in the US's leadership.
It's a Hard Knock Life
Gen Z is still young and not fully immersed into the workforce yet. 73% of Coupon Chief's respondents reported still being a student, and only a small percentage of these were working. In fact, 15% reported working full time, and 18% reported working part time. But while they're working and earning money, one in five Gen Zers are still accumulating debt.
As can be seen above, the majority of Gen Z has a negative outlook on the future of the economy they're dealing with. Liberal Gen Zers (61%) were the least optimistic, while conservatives (43%) had the most optimism.
While they have a not-so-bright outlook on the global economy, 76% were optimistic they have the ability to do better than their parents did. However, many of their Gen X parents grew up to be more financially independent than they are and remain focused on their independence and financial self-sufficiency.
Learning the Lingo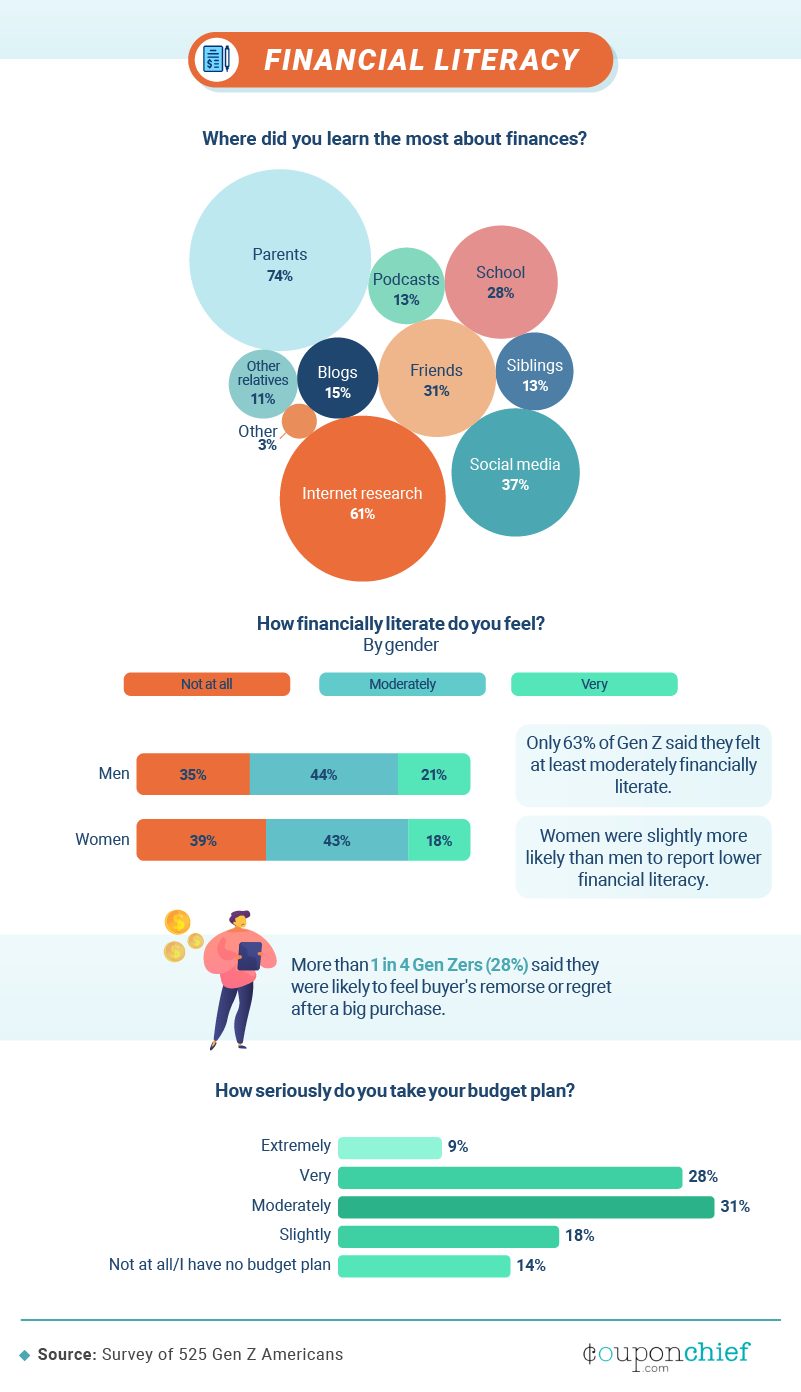 Since their Gen X parents grew up in a more financially self-sufficient time, they have a lot of knowledge to impart on their children financially. While 74% of Gen Z said they learned about money from their parents, 61% reported learning through online research. At a slightly lesser rate than learning from parents or online, 37% got their money facts from social media. Hello, meme stocks. But, even with all of these options at their disposal, only 63% of Gen Z reported feeling financially literate.
Are budgets part of Gen Z's financial literacy? For the most part, considering only 14% reported not having one, and 18% reported only taking their budget slightly seriously. Still, 37% reported taking their budget extremely or very seriously as they work on doing better than their parents did.