As cryptocurrency has grown in popularity, crypto-related crimes have also been on the rise as Crypto Head showcased in its Crypto Crimes report earlier this year, which found that in 2020 there were 8,801 crypto crime reports to the UK action fraud team. This was a 24% increase from 2019, where 7,121 reports were filed. Prior to this, crypto crime reports in the UK had been growing exponentially. Between 2017 and 2018 there was a 355% surge in crypto-related crime, as there were over 5,000 more reports in one year alone.
In particular, the number of exchanges and currencies that are being targeted by hackers stealing coins has increased, as many crypto and blockchain technologies are still in their infancy so they can be more easily exploited. 8,131 of the crypto crimes reported to the UK action fraud team were related to Bitcoin crimes.
So, how have the number of crypto breaches and fraud offences changed over the last decade, which have been the biggest, and how do they vary between different countries and currencies?
The most valuable crypto breaches and fraud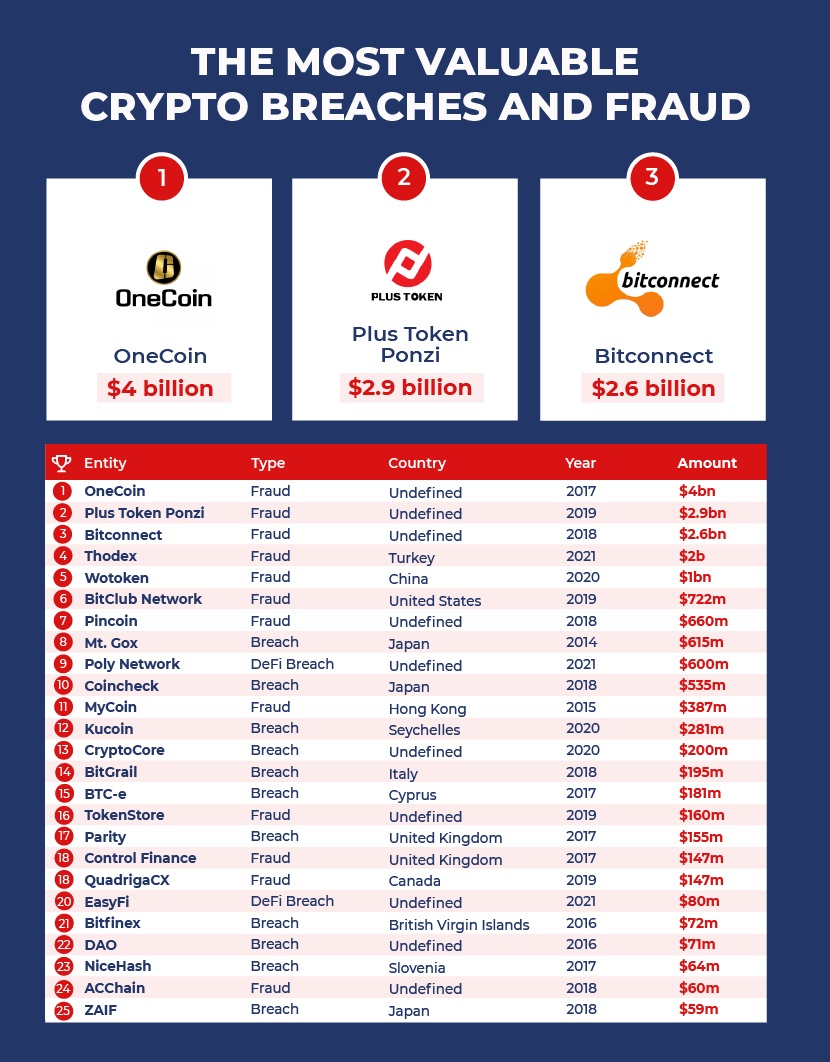 OneCoin – $4 billion
The biggest crypto offence to date was the OneCoin Ponzi scheme, which was promoted as a new cryptocurrency and has been dubbed one of the biggest scams of all time.
The founder, Ruja Ignatova, disappeared in 2017 and has yet to be found, although many others have been arrested in connection with the scheme and US authorities state that the scheme defrauded investors of $4billion.
Plus Token Ponzi – $2.9 billion
The PlusToken Ponzi scheme mainly affected investors in China and South Korea and saw an estimated $2.9billion stolen.
Over 100 people were arrested in relation to the scheme and the ringleaders were recently sentenced for up to eleven years by a Chinese court.
Bitconnect – $2.6 billion
Not all crypto breaches relate to hackers gaining access to funds, as was the case with Bitconnect, which was linked with a Ponzi scheme and guaranteed unrealistically high returns, eventually scamming investors out of $2.6billion.
How much have crypto breaches and fraud increased?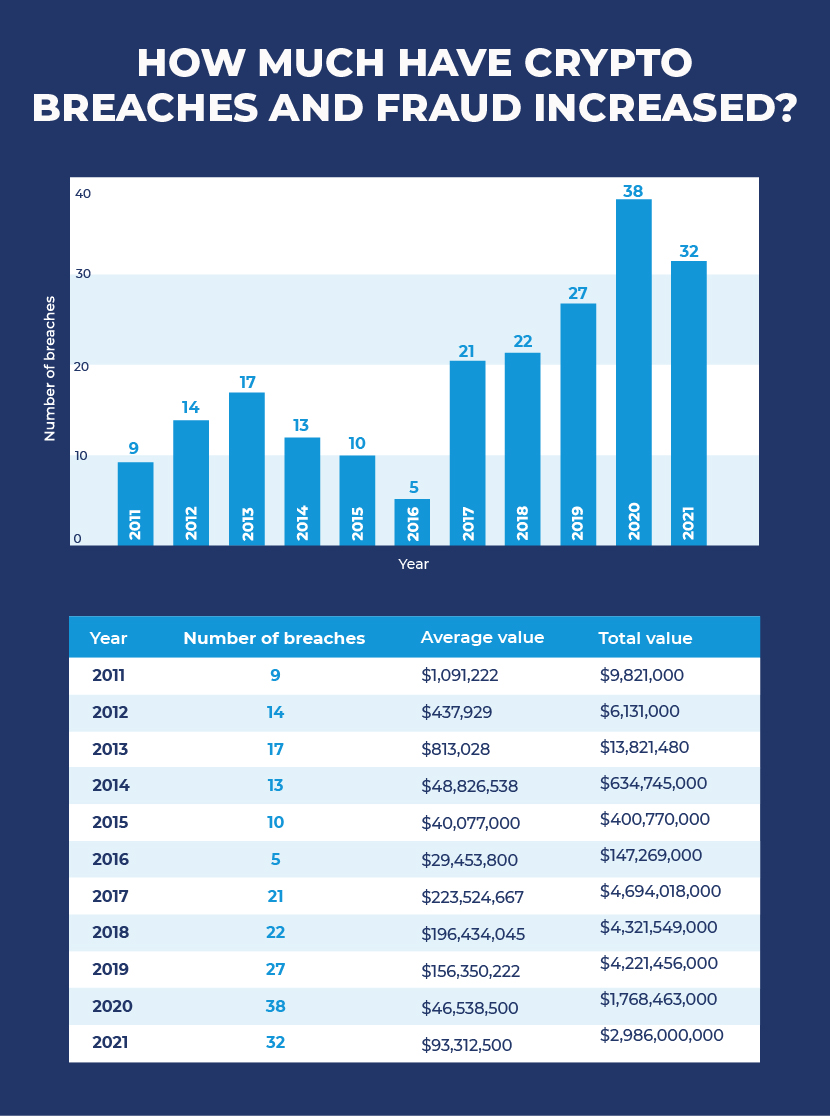 Between 2011 and 2021 there have been 208 notable crypto offences, with a total of $19.2billion being stolen in that time.
In 2011 there were nine offences, with over $9million being taken, but this number had almost doubled by 2013 and grew to as many as 38 in 2020 and 32 so far in 2021, showing how rapidly offences are increasing.
While 2021 looks set to be the year with the highest number of offences, 2017 was the year that saw hackers make the most money, stealing highs of $4.7billion in total and $223.5million on average.
As hackers and their technology become more sophisticated, it's clear that breaches are an increasingly big concern for the crypto world.
The most commonly targeted currencies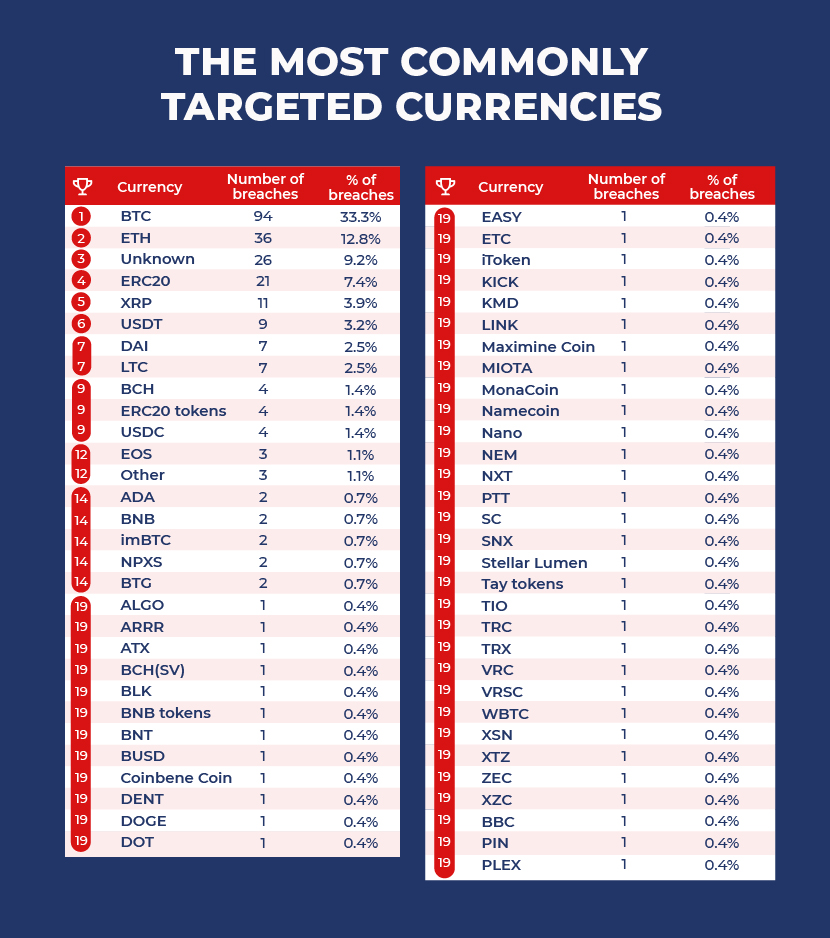 Across 208 breaches, 59 different cryptocurrencies were stolen, with Bitcoin being the most commonly targeted as it was involved in just over a third of breaches, with 94 over the last decade.
As the most popular cryptocurrency in the world, it's not too surprising that Bitcoin is the most stolen. The second-most popular coin, Ethereum, is the second-most targeted, with 36 breaches making up 12.8% of the total breaches of the decade.
The most common types of crypto offence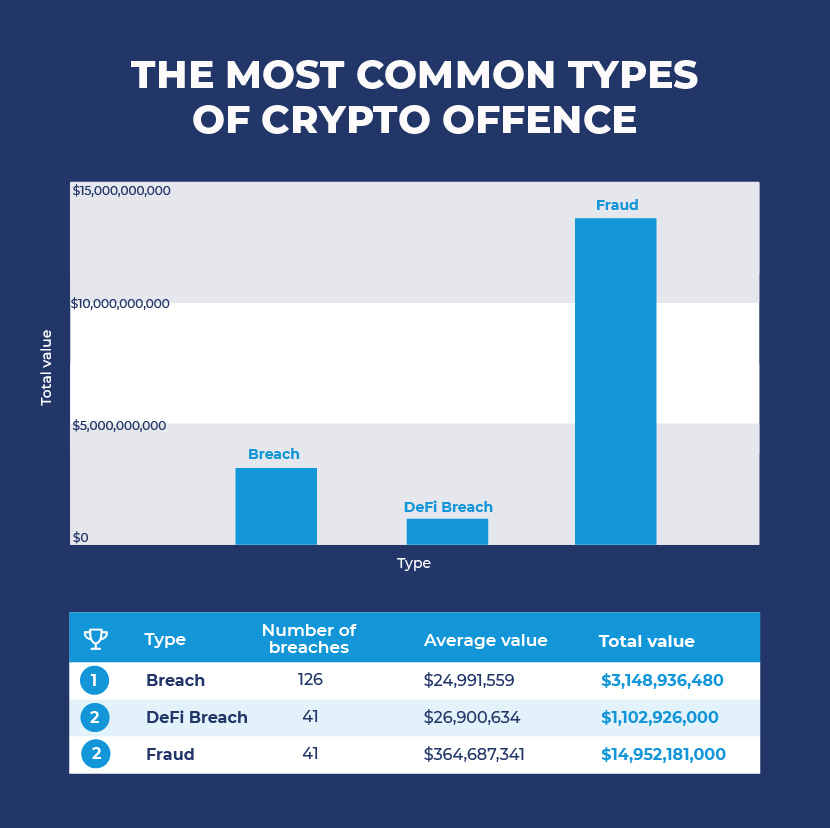 The most common type of attack is breaches of wallets and exchanges, with 126 in the last ten years, which is far more than offences involving DeFi attacks and fraud (both 41).
The largest of these breaches to date saw Mt. Gox have $615million stolen over the years, leading to the platform ultimately becoming insolvent in 2014.
However, it was cases of fraud that were the most lucrative for criminals, usually seeing the perpetrators walk away with big sums.
The average crypto fraud incident saw $365million stolen (over 14 times as much as breaches), while just under $15billion has been stolen in total via fraud since 2011.
However, the number of DeFi (decentralised finance) breaches is on the increase, with this new technology more open to potential weaknesses.
The most commonly targeted countries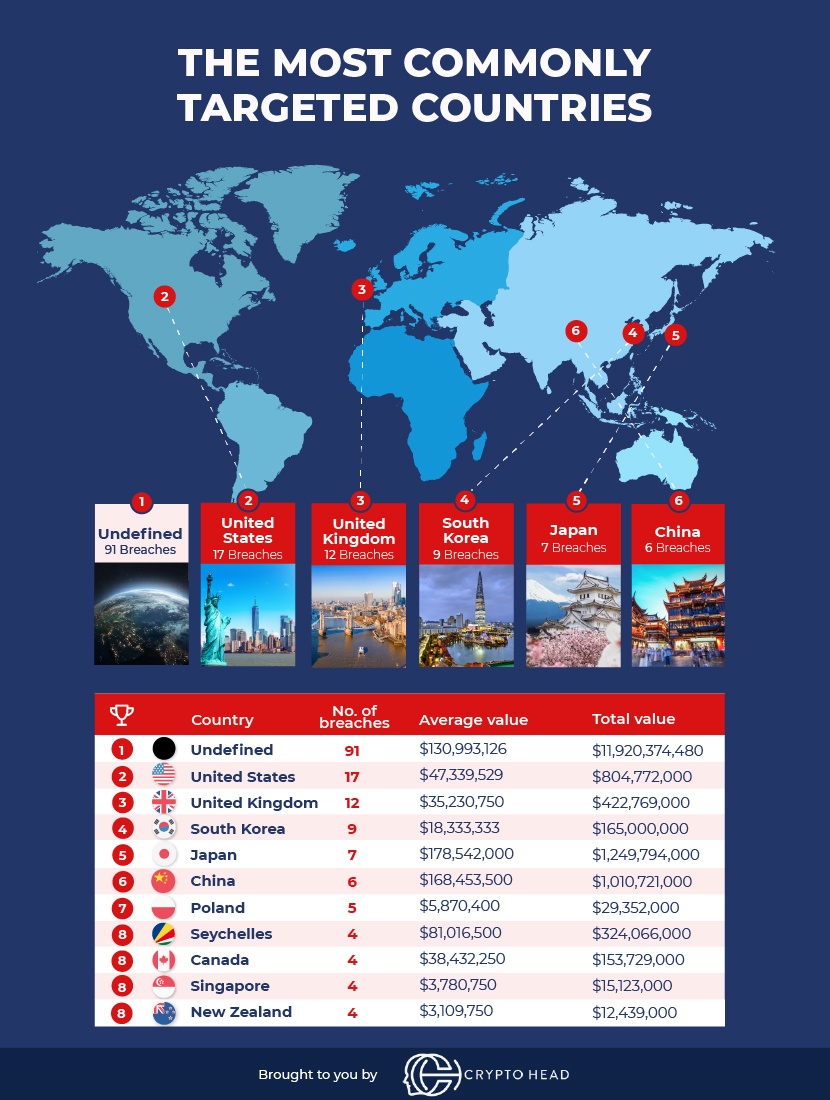 The vast majority of cases can't be tied to any one country, but of those that can, the majority targeted the United States (17), followed by the United Kingdom (12), South Korea (9), Japan (7) and China (6).
But once again, it wasn't the most targeted entities that suffered the most, as Turkey lost the highest sum through the Thodex scam, which saw $2billion stolen, followed by Japan ($1.2billion stolen in total) and China ($1billion stolen in total).